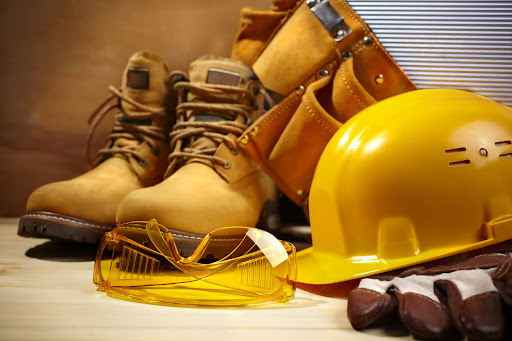 Health and safety is key in any workplace, no matter what the safety risks are, with everyone from employer to employees responsible for ensuring safety health and safety procedures are followed. When it comes to on-site work such as the construction industry, demolition or other site projects, the risks of danger and serious injury are even higher due to heavy loads, potential trip hazards and uneven terrain. These working environments therefore require greater safety compliance and are why it is even more essential to ensure that the correct site health and safety regulations are put in place.
Why Is Health and Safety So Important On Site?
So, why is site health and safety so important? The hazardous, and physically demanding nature of the working environment demands for there to be proper measures taken in order to help avoid the numerous risks that come with working on a construction site. It's important to know exactly where the risks lie and how to reduce them effectively – most accidents can be avoided if the risks are properly managed. Risk management on-site should be regularly updated and  should be an ongoing process to ensure construction companies stay compliant with ever-changing legislation. 
Safety Of All Those Present
The safety of your workers is vitally important. Measures will need to be put in place before any machinery or workers step foot on-site. Health and safety should be put at the heart of operations and training, and all contractors should have completed health and safety assessments associated with their work activities before starting work on building sites. Risk management should be constantly updated to ensure the company is aware of all new or changing areas of concern.
Workers should be aware of and understand all of the health and safety measures that are in place, and report anything they see that might endanger them or anyone else working on the site. Including workers in your construction health and safety strategy and plans is a great way to make them feel valued and potentially upskill them too.
Site health and safety doesn't just help to protect construction workers and those on site, but also the public.
Health and Safety At Work Act 1974
The Health and Safety at Work Act 1974 is the primary piece of legislation that governs workplace health and safety in Britain. The Act requires that workplaces provide:
Adequate training of staff to ensure health and safety procedures are understood and adhered to
A safe working environment that is properly maintained and where operations within it are conducted safely
The health and safety legislation sets out the general duties which:
Employers have towards employees and members of the public
Employees have to themselves and to each other
Certain self-employed have towards themselves and others
How To Ensure Health And Safety On Site?
An unsafe building site isn't just a health and safety risk, but also a liability risk. Failure to adhere to health and safety standards can lead the business to be fined, sued, or even banned from operating and in some cases, individuals can be sent to prison.
The risks that come with working on a construction site are varied, from falling objects to collapsing structures. It's therefore vital to know where the risks lie and how to reduce them effectively. Although it's not possible to completely eradicate the risks on building sites, by carrying out a thorough risk assessment and having effective health and safety precautions in place, it can drastically reduce the risk of injury and illness.
Risk Assessments
Risk assessments are an essential part of health and safety in a working environment and should be incorporated into common practice and everyday life. Risk assessments should be carried out by the relevant health and safety professional for the project, or suitably trained person. A typical risk assessment will involve the relevant hazards being identified, quantification of the level of risk and control measures to reduce the risk.
Everyone Is Provided With Relevant PPE
The employer has a duty to provide their workers with personal protective equipment (PPE) to reduce the potential risk of harm when it cannot be reduced or mitigated by any other means. Whether employees are moving objectives or simply operating vehicles, it is the responsibility of the employer to ensure the relevant PPE is provided to everyone who needs it.
PPE is determined by company policy and risk assessment, but typically includes a hard hat, eye protection, high visibility clothing, safety footwear, safety glasses and gloves.
Health And Safety Audit & Inspection
Regular audit and inspection are a must. This will help ensure that nothing is looked over or forgotten, helping to prevent the occurrence of workplace injuries.
Health And Safety Procedures Are Clearly Signed
It's vital that you take precautions when you're working onsite. All health and safety procedures need to be clearly sign posted throughout the site to avoid any confusion. As long as your workers know about health and safety legislation and everyone works to lower risk, you'll have a compliant and safe company.
Our Services
Thompsons of Prudhoe are a specialists contractors in the following areas:
Are you interested in any of the above services throughout the UK and would like a quote for a bespoke project? Contact the team today to find out more!