Owners have a variety of reasons as to why they want a building to be demolished. It could be to deal with hazardous materials and pests, or simply to increase the property value.
Demolition isn't just simply a case of turning up to the site with excavators and demolishing a building structure. Industrial demolition is a time consuming and hazardous process that requires thorough planning. Having a proper demolition plan in place is not only necessary but it's also a legal requirement.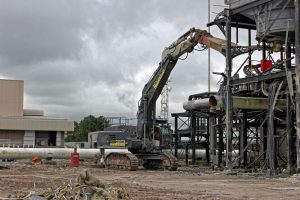 Why Is It Important To Plan Demolition Before Carrying It Out?
When it comes to demolition, it is vital for it to be properly planned out from start to finish. By having a plan in place before beginning any works ensures that the demolition project is carried out as safely and efficiently as possible, helping to account for all eventualities. A demolition plan covers the different processes involved, this includes:
Location of the building
The distances from adjacent buildings, roads, structures and schools
The structural support
Method statements for the Demolition of the building; showing the sequence of Demolition and the method of Demolition to be employed
A health and safety plan showing all the measures for the protection of the public including hoardings, covered walkways, crash decks, and scaffolding protection screens
Waste management plan
Programme of the demolition process
The Do's Of Demolition:
We've pulled together a few of the 'do's' when it comes to carrying out your demolition project.
The Correct Safety Equipment
Demolition and dismantling comes with a range of risks.Uncontrolled collapse, injury from falling materials, hazardous materials… the list goes on! This is why a minimum 5-part PPE must be worn at all times. The basics include, a hard hat, eye protection, work gloves and work boots – these should be worn during every demolition project.
The Appropriate Demolition Tools And Equipment
In order to carry out a successful and efficient demolition and dismantling project it's essential to have the appropriate demolition tools and equipment.
Ensure That This Is A Doable Task With Resources Available
Before committing and agreeing to the project at hand make sure it is a feasible task with the resources that are available.
Identify And Assess All Potential Risks
Industrial demolition can be extremely dangerous and it's therefore essential to identify and assess all potential risks before beginning any project. For example, if asbestos is found on the site, the necessary measures will need to be taken in order to dispose of it safely. Everyone working on the site must be aware of the precautions being taken, and understand the importance of following them.
Be Prepared For Delays And Setbacks
Not everything always goes to plan. It's important to factor in potential delays and setbacks and come up with an alternative plan. Consider any limitations that may prevent you from completing the job and come up with a back up plan. You'll need to have an open line of communication with the client to keep them in the loop with what is going on in the project.
The Don'ts Of Demolition:
We've pulled together a few 'don'ts' when it comes to demolition safety:
Allow Those Without Safety Equipment Within Close Proximity Of Demolition Site
The only people who should be allowed within close proximity of the demolition site are those that are fully equipped with safety equipment. A minimum 5 part PPE must be worn at all times, this includes; steel-toe cap boots, hard hat, safety glasses, safety gloves and a hi-vis vest/jacket. Allowing anyone on site that is not wearing full PPE is extremely dangerous and could have fatal consequences.
Get Distracted When On Site
Limit any distractions. Distractions can cause accidents, so make sure the demolition site is clear of anything that may deter workers attention from the job at hand. Keeping the site clean and tidy at all times will help to limit distractions and ensure workers can remain focused on their job. Measures should also be put in place to reduce and monitor dust, noise and vibration.
Use Tools Or Equipment That You're Unsure How To Use
Operators and workers should be fully trained on how to use any pieces of equipment that they'll be handling throughout the duration of the project. All employees have the appropriate qualifications and experience for the assigned tasks. Using a power tool without proper training can have dire consequences.
At Thompsons of Prudhoe we continuously invest into the training and up-skilling of our workforce and the purchasing of new and advanced plant and equipment.
Use Noisy Equipment Or Vehicles At Night Or In Morning
Noise pollution is another thing to consider when carrying out a demolition project. It's important to adhere to the hours of operation for works audible at the sound boundary – these can vary. But in general the use of noisy equipment is limited to the appropriate hours.
Overwork Yourself Or Employees
Overworking yourself or your employees will lead to exhaustion, simply increasing the likelihood of mistakes and accidents. The tasks at hand require full concentration so it's important to take regular breaks to avoid fatigue, full attention is needed when operating powerful machinery.
Take A Look At Our Demolition And Dismantling Services
Thompsons of Prudhoe offer a fully comprehensive demolition service which covers Industrial Demolition, Commercial Demolition and Residential Demolition.
If you'd like to discuss any of our services please don't hesitate to contact the team today on 01661 832422.