Thompsons Asbestos Services Ltd are trained and licensed contractors who are experienced in the management of asbestos.
We ensure all types of asbestos we encounter are removed safely and effectively from our customers' projects. We hold a full 3-year asbestos removal licence issued by the Health & Safety Executive, demonstrating that our asbestos removal teams work to the highest possible standard within this highly regulated area of industry. We are one of the most established asbestos removal companies in the North East and have carried out a number of asbestos removal projects across the UK.
Experienced Asbestos Removal Contractors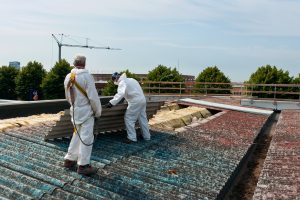 Thompsons of Prudhoe have decades of experience safely removing a broad range of Asbestos Containing Materials (ACM) from a wide variety of different structures and sensitive working environments.
Our team can integrate asbestos removal within a fully comprehensive demolition and dismantling service, allowing our customers to deal with one company throughout the entire site preparation and enabling process, from initial consultation to handover of the site ready for the construction phase.
All our asbestos removal operatives are experienced, highly trained and hold asbestos medicals.
Upon completion of asbestos removal projects, we work with an independent and approved analytical company to provide the documentation and reoccupation certification required for our customers' records.