Decommissioning work is a necessary part of any project or facility that has reached the end of its functional and operational life. When looking to decommission an industrial facility, a great deal of care needs to be taken in regard to safety, regardless of the site's previous purpose. Whether it was home to a manufacturer, a petrochemical producer, or a storage company, the company responsible for the removal work must complete it safely. Part of this is accounting for all relevant risks. Thompsons of Prudhoe provides leading decommissioning services in the North East and as such, we are experienced in the management and safety of decommissioning work.
What are the steps in the decommissioning process?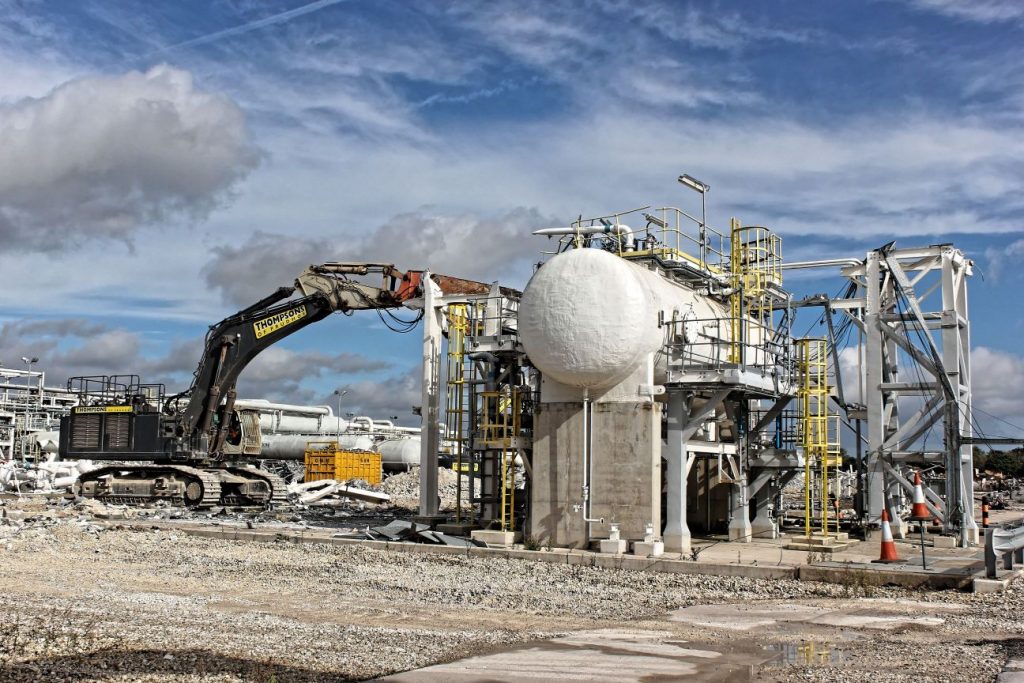 Decommissioning work involves the removal of equipment, structures and materials that are no longer required, and the restoration of the site to its original condition. The process typically involves several steps, which may vary depending on the facility or project. Dismantling and decommissioning jobs can be incredibly hazardous. Decommissioning projects are particularly common for gas companies with offshore gas installations and other offshore installations but can be done by any structure that has to be safely decommissioned. Here are some of the steps briefly explained and why they're important for safely completing the work in a decommissioning programme:
1. Planning
Planning for the decommissioning process may involve an assessment of the facility or project, including identifying any hazardous materials or equipment and developing a timeline and budget for the work. This is an important first step in the process as it presents information that could inform potential risks and hazards to staff and the environment.
2. Preparation
Once any potential hazards are identified, preparing the site for decommissioning helps to further minimise the risk of accidents or injuries. This can include removing any remaining equipment, disconnecting utilities and securing the site to prevent unauthorised access.
3. Removal
Removing and appropriately disposing of any hazardous materials and equipment is one of the most critical stages of decommissioning. It is essential that proper removal procedures are followed to ensure that the materials are handled and disposed of safely. This stage may also bring up further potential safety hazards such as structural instability or exposure to toxic substances.
4. Restoration
Restoring the site to its original condition is important for safety as it helps to prevent erosion and other environmental issues such as landslides and flooding.
5. Management & Monitoring
Regular testing of soil, water and air quality is involved in the management and monitoring stage of decommissioning to ensure that there are no remaining hazardous materials or environmental issues. Ongoing monitoring will ensure that the site remains safe for future use.
Consider the impact
When planning your decommissioning work, it is important to ensure that environmental impact is always a consideration, including the removal and disposal of all materials from the site. Failure to do so can have serious environmental consequences such as contamination of the soil, water and air. This can have long-term effects on the environment and surrounding communities, so it is essential to think about how the work will affect the air and water as well as how much noise it will generate when decommissioning planning.
Decommissioning jobs can be difficult, even more so when the functionality of the site has been the storage or production of harmful materials. Even small traces of these substances can cause a lot of harm, therefore extreme caution is needed. It doesn't matter how long the facility has been inactive, it is important that a risk assessment is conducted when carrying out decommissioning programmes as well as subsequent consideration to removal, necessary equipment and keeping the workforce and surrounding communities safe.
Removal
The removal process is a critical stage of decommissioning work and must be done carefully and methodically. For example, the removal should be conducted in stages so that large amounts of waste do not have to be processed at once. Working in smaller, more manageable steps will make removing, transporting and disposing of harmful substances much easier.
A decommissioning job is only complete when the site has been dismantled or decontaminated. This should be so that the site does not fall under regulatory control. This process can allow the site to be ready for reuse at a later date. However, hazardous materials and contaminants must first be removed. This is particularly important for gas operators, nuclear structures and other building with radioactive material.
Industrial Dismantling & Decommissioning Services
People might have plans to shut a site down or may consider regeneration. If so, you need to ensure you rely on a team with the right skills.
Do You Require A Decommissioning Project?
Thompsons of Prudhoe is a renowned provider of decommissioning services in the North East. Our experience from operating for over 60 years has made us specialists. We can help decommissioning projects run safely and smoothly.
You can turn to us for expert support with projects involving demolition, earthworks, and various other things. Get in touch with the team today to learn more.