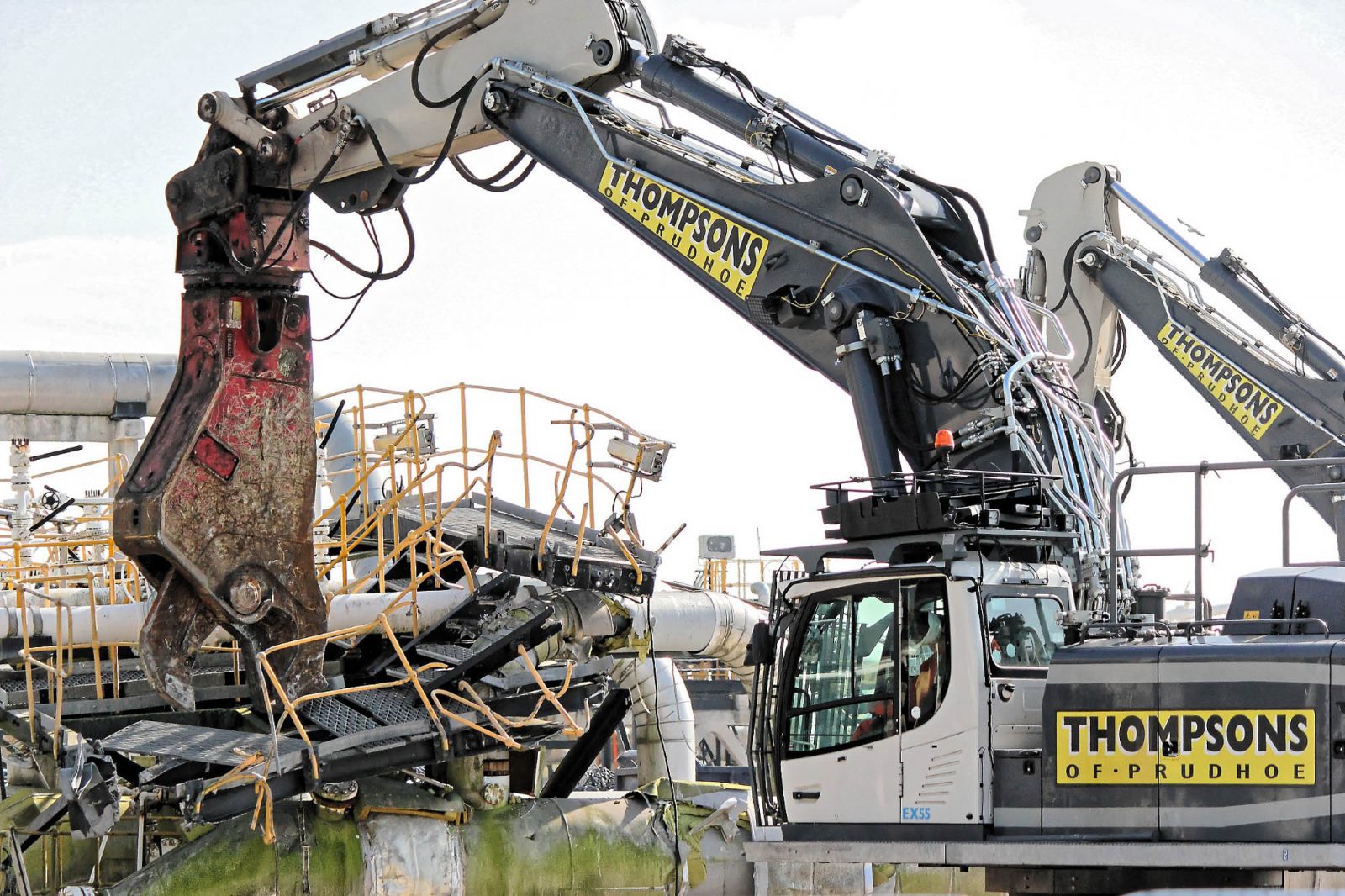 Here at Thompsons Of Prudhoe, we are specialists in different types of demolition. In this blog piece, we will be looking at the different methods of demolition and how different demolition techniques are used for different purposes.
Having been honoured with the title of "Demolition Specialist Of The Year 2014" at the prestigious National Construction News' Specialists Awards, we are confident that we can tackle all types of demolition projects and no project is too big nor too small for our team to tackle. We have undertaken developments for the likes of Nuclear Licensed Sites, Pharmaceutical Plants, Oil and Gas Refineries, Chemical Plants and many more.
But for many, when they enlist the help of our demolition services, it can be overwhelming to understand the in's and out's of the demolition process, and that there are many different methods of demolition that can be performed.

What Is Demolition?
Demolition is simply the safe and careful removal of existing buildings and structures in order to utilise the land for another use. It can be either completely demolishing a structure or dismantling part of a structure that is load-bearing in order to reuse or recycle components.
What are The Different Methods Of Demolition?
Total Demolition
The demolition of an entire structure or site. This would be most common in the case of community re-structure; for example, if there was an old retail centre that was not benefiting an area, the land could be used to build a housing estate, to provide additional housing for the community, and therefore demolition would be instructed.
Selective Demolition
Removing specific parts of a building. Some old buildings stand the test of time and others don't. In this case, perhaps there is a really old section of a workplace or local amenity that is not performing as it should, but the entire building is not at a state of concern. Or perhaps it is a listed building, therefore you may be restricted as to what and how much you can demolish. So you could select a particular section of the building to demolish and build up from scratch. This also can add value to a current building too by performing construction in stages.
Interior Demolition
Demolition particular parts of the inside of a building, while protecting and maintaining the exterior structure. For example; partitions, walls, ceilings, etc. A great option for creating more space inside of a building or removing troubled areas.
Dismantling or Deconstruction
This method involves the careful dismantlement or deconstruction of a building or structure in order to preserve parts for reuse, refurbishment or recycling. Dismantling structures is a lot more labour intensive than say total or explosive demolition.
Explosive Demolition
A highly specialised type of demolition, explosive demolition involves using explosives to bring down high reach building structures. This type of demolition work will target the structural support of a building so that it collapses in on itself.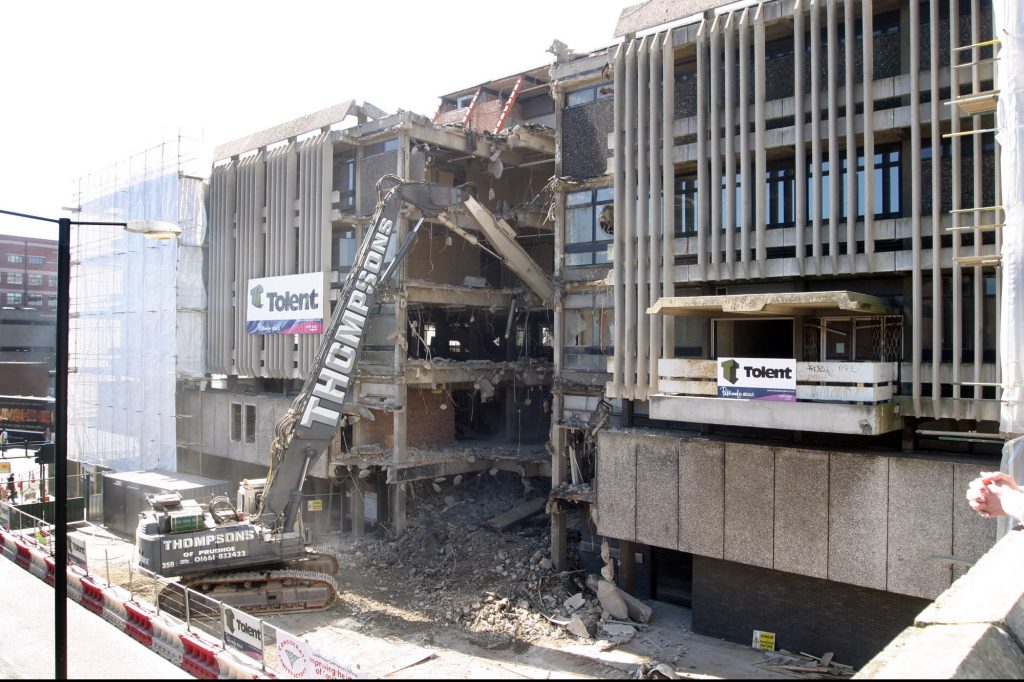 Why Is Demolition important?
Building demolition needs to be done correctly, in a safe and correct manner is vital in order to base solid foundations for the next construction process. There are regulations to follow, Health and Safety laws to abide by, and a level of skill and knowledge involved – it's not just as simple as bulldozing down a building.
Before a demolition process begins, there are a number of factors to take into consideration. The following are:
Liaise with the authority / business owner of the site pre-demolition to discuss any requirements. Whether it be safety measures to bear in mind, water damage, damage or collapse of the foundations, shoring or if they have any area of the building that requires protection or extra care as the work commences.
Have the building surveyed prior to demolition, this will give you a professional understanding of the structural aspect of the building, and what could propose potential difficulties or risks. An R&D Survey or Dilapidation Survey will be carried out professionally in order to investigate hazardous conditions such as asbestos.
Ensure everyone involved in the process adheres to the Construction Regulations (such as CDM 2015) prior to starting any work.
Have approval from your local authorities
Why Should I Choose Thompsons Of Prudhoe For My Demolition Project?
As we mentioned earlier, we are specialists in the four D's. We know exactly what to look out for when demolishing a site.
We cannot express enough how important it is to instruct the aid of professionals like ourselves when it comes to demolishing a site. In addition to the factors listed above, there are also a number of additional things that our trained eye can work on and prevent any risks or damage. The following are:
Possible dangers – Asbestos. Did you know that asbestos kills around 5000 workers each year? It's not an issue to be taken lightly nor taken on by novice hands. In the demolition process of your project, there could always be the possibility of running into asbestos or asbestos traces. Leave it to the professionals – here at Thompsons Of Prudhoe we are trained and licensed contractors with decades of experience in the management of asbestos. We hold a full asbestos removal license issued by the Health & Safety Executive, demonstrating that our asbestos removal teams work to the highest possible standard within this highly regulated area of industry. Upon completion of asbestos removal projects, we work with an independent and approved analytical company to provide the documentation and reoccupation certification required for our customers' records.
When you come to Thompsons, you receive a thorough, safe and outstanding service. We have a wealth of knowledge that can spot potential issues, work out doable solutions and perform a task with ease, that the untrained eye may have difficulty with.
We hold 73 years experience in the industry and open our honest policies to you on Sustainability, Environmental, Quality, Health and Safety, Structural Integrity and many more.
If you require the use of our demolition services, then don't hesitate to get in touch with our team today. Give us a call on +44(0)1661 832 422 or write to us at info@thompsonsofprudhoe.com.