Asbestos is one of those things that everyone has heard of, but many people don't actually know what it is, what it looks like or how it can cause harm. So as experts in our trade here at Thompsons of Prudhoe, we thought we would uncover the science behind asbestos, and just how dangerous it can actually be.
EVERYTHING YOU NEED TO KNOW ABOUT ASBESTOS!
Here at Thompsons of Prudhoe, a lot of projects we work on requires the removal of asbestos, and it's surprising how many people underestimate the dangers of correct removal – while being fully aware of the health risks it can bring. So we thought, hey, why not put together a guide to everything you need to know about asbestos in construction? Carry on reading to learn more…
WHAT IS ASBESTOS?
In short, asbestos is a group of six naturally occurring fibrous minerals composed of thin, needle-like fibres. Asbestos used to be used in building materials – like cloth, paper, cement and plastic to make them stronger as pure asbestos acts as an effective insulator. However, it is incredibly dangerous is someone inhales or digests asbestos dust as the mineral fibres can become trapped in their body forever.
Asbestos was a popular building and insulation material between 1930 to 1950, and was still being used until it was officially banned in 1985 (Chrysotile (white) in 1999). Matter of fact, the two most dangerous types (blue and brown) have not been imported into the UK for around 20 years now.
Asbestos is a group of six naturally occurring fibrous minerals composed of thin, needle-like fibres. Historically used in building materials, such as cloth, paper, cement and plastic to make them stronger and aid insulation, the health risks are now more public knowledge than ever before. If asbestos fibres are inhaled or digested, it can be incredibly dangerous as the mineral fibres can become trapped in your body forever.
WHAT DOES ASBESTOS LOOK LIKE?
Asbestos can have a similar appearance to loft insulation – fuzzy and soft. There are however many different types of asbestos for different purposes, that come with many different dangers. Here are a few and how to spot them:
Loose asbestos (found usually in ceilings or under floorboards) can look similar to candy floss but in a blue-grey-white colour.
Lagging (usually applied to pipes) can be harder to detect to the untrained eye and tends to be a more flaky and powdery consistency.
Sprayed asbestos (found on ceilings, walls and beams) is usually white or grey and usually has a rough surface.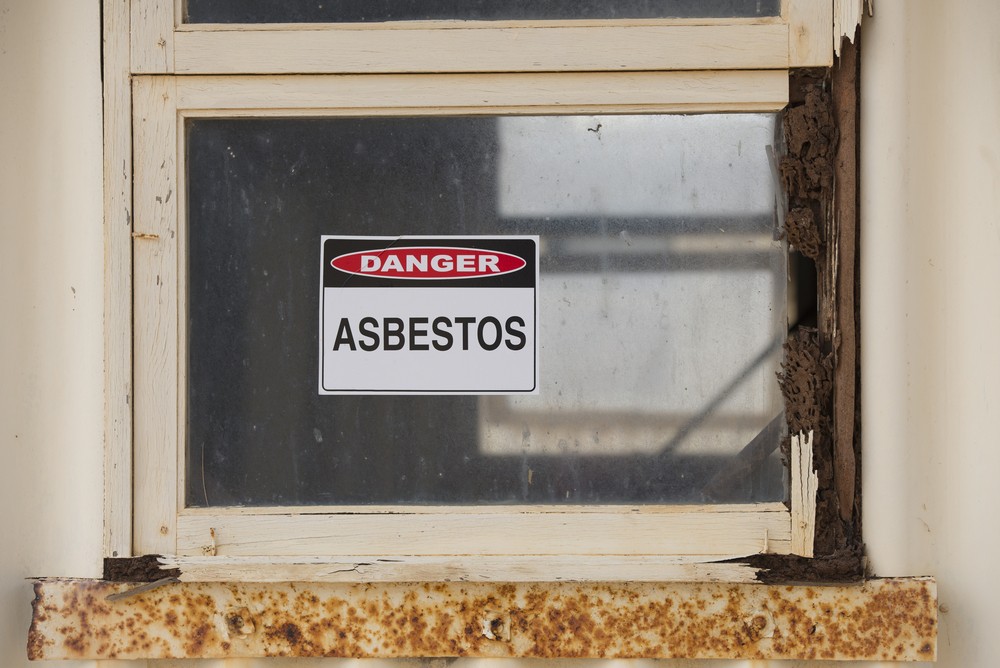 COMMON TYPES OF ASBESTOS
Asbestos is not something to be sniffed at – if not managed and dealt with correctly, it can pose a severe threat to your health. Asbestos was used as a key building material to aid insulation for hundreds of years, now replaced by popular alternatives such as Fibreglass, Polyurethane Foam and Cellulose Fibres.
There are three common types of asbestos – how do you identify which is which? Here goes:
Chrysotile (white asbestos) – Chrysotile is the most common type of asbestos. Often contaminated with trace amounts of tremolite, Chrysotile fibres are usually very fine in texture and possess high flexibility and good heat resistant properties.
Amosite (brown asbestos) – Amosite is strong and heat-resistant type of asbestos– commonly used in cement, plumbing insulation and electrical insulation. Though all types of asbestos are toxic, amosite asbestos exposure has a comparatively higher cancer risk.
Crocidolite (blue asbestos) – Crocidolite has very thin fibres and if inhaled, it can easily lodge in the lungs. It's thin fibres and brittle nature make for crocidolite to be one of the most harmful types of asbestos.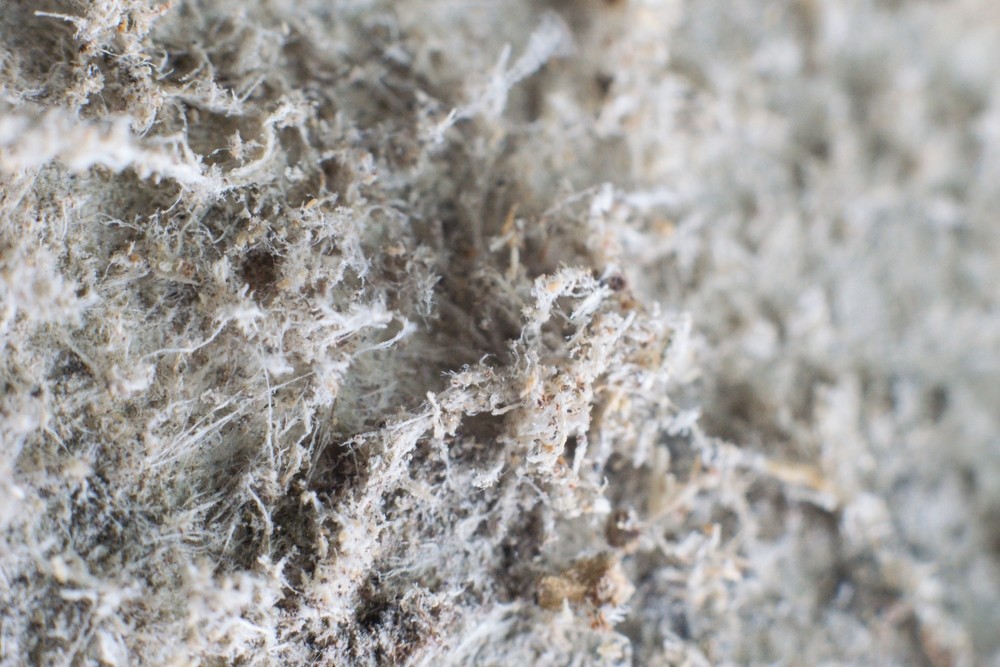 Other common types of Asbestos
Tremolite – Typically found in paints and sealants, tremolite fibres are usually found as a contaminant in chrysotile asbestos. It can occur in many colours, including white, green and grey,
Actinolite – Usually found in structural fireproofing and insulation materials, actinolite fibres are lightweight and generally dark in colour. It expands when heated, so it makes a pretty effective insulation material.
Anthophyllite – Typically found in composite flooring, Anthophyllite fibres are dark in colour (grey/brown) and can lead to a person developing mesothelioma. Anthophyllite is considered to be non-commercial, as it was used in products containing talc, such as talcum powder.
THE DANGERS OF ASBESTOS
If asbestos is inhaled or ingested then the risk of developing health issues such as lung cancer, tumours and skin conditions are extremely heightened.
Did you know that more than 100,000 people worldwide die each year from occupational exposure to asbestos? As reported by the World Health Organisation, with upper estimates closer to a quarter of a million, and the number in the UK is around 5,000. This number does however appear to be falling but it is important to still be aware of the implications asbestos can have and why it is important to remove asbestos infected areas.
HOW TO TELL IF ASBESTOS IS PRESENT IN YOUR WORKPLACE…
It is extremely hard to detect if asbestos is present in your work or home environment as you can't tell by sight, smell or colour of the material. The fibres are so small they actually compare to about 10 times smaller than the width of human hair. The only way you can tell if asbestos is present is by getting samples tested in a lab. If it turns out that asbestos is in fact present in your building then you MUST get it removed properly by industry professionals like ourselves here at Thompsons of Prudhoe.
Can I remove asbestos myself?
In one word – NO! Please do not try to remove any trace of asbestos yourself without the correct knowledge or tools to do so. Leave it to the professionals here at Thompsons of Prudhoe. There are many different stages of asbestos removal – before the actual asbestos is removed.
Starting with extensive surveys – it is important to appoint an experienced can competent surveyor to carry out an extensive R&D Survey which helps identify the type, location and quantity of asbestos which is present on site. Their job is to go over the building with a fine-tooth comb, to ultimately outline and minimise any risk of danger and contaminants.
The next step is to brief the contractor in as much detail as possible about the structure of the building before any removal can begin. All team members will have gone through extensive training to be on board the project, and all machinery and tools will have been checked prior to any work starting. The contractor needs to know all about the type and condition of the asbestos, in addition to the exact location of where it is. This knowledge will help them to devise a safe and efficient plan of action – it is CRUCIAL that everyone follows the guidelines and appropriate risk assessments are carried out.
The contractor then needs to ensure that the site is set-up in strict accordance with CDM Regulations 2015 and in accordance with the Control of Asbestos Regulations 2012.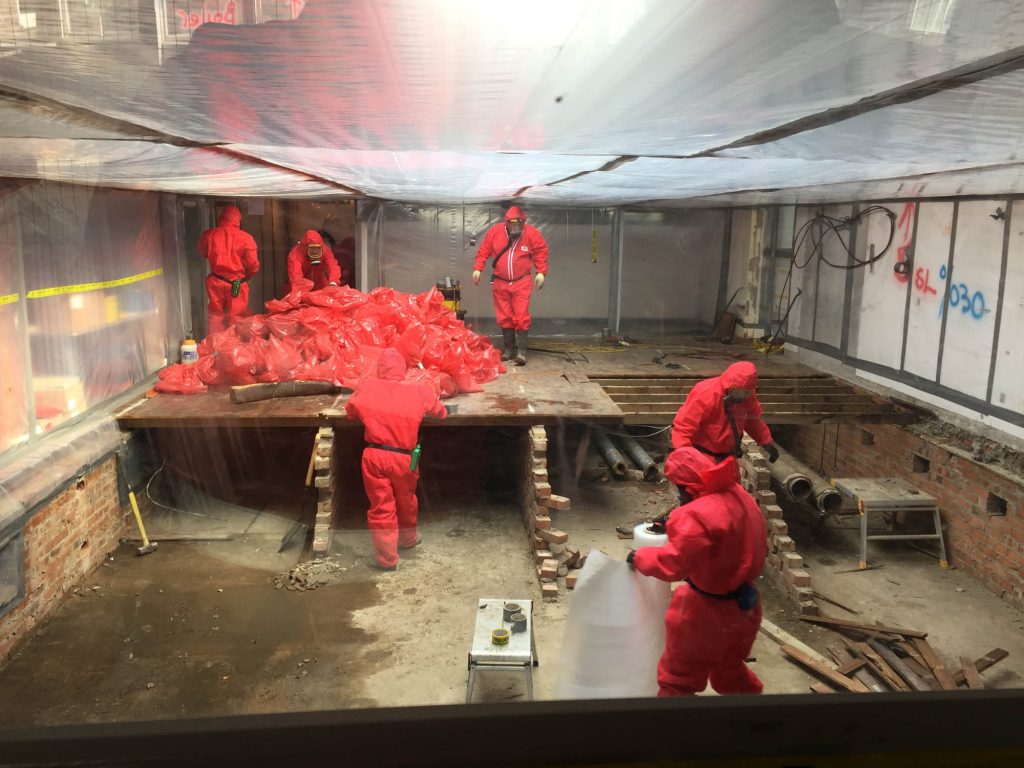 WHAT DO I DO IF MY BUILDING HAS ASBESTOS?
It can be extremely hard to detect if asbestos is present in your workplace or at home – you can't tell by sight, smell or colour. As the fibres are so small, they actually compare to about 10 TIMES smaller than the width of a human hair! Therefore the only way that you can tell if asbestos is present is by having samples tested in a lab. If asbestos is found, then you should have it removed properly by industry professionals (hello!).
Be Careful
In an industrial setting, you need to complete extensive surveys. This is especially important when the work is part of a decommissioning or demolition project. You should do this before you start any work. This will minimise the risk of spreading contaminants; these can be very harmful to animals and people.
Take The Right Approach
The contractor needs as many details as they can get before beginning a removal. They need to know all about the type and condition of the asbestos as well as where it is. Having this knowledge will help them devise a safe plan. It is crucial that people also follow the guidelines and consult risk assessments.
The contractor needs to make sure the site is secure before any work begins. As part of this, they must seal off locations where there is asbestos. It is important to restrict access so that only those with the correct safety equipment can enter. Fence off the outer perimeter and keep it this way during the work. This will stop any animals and people from entering and becoming exposed to harmful materials.
Minimise Risks
When carrying out asbestos removal on an occupied site, you need to eradicate the risk of contaminants spreading. This also applies if the site is adjacent to an occupied area. It is possible to do this by carefully monitoring the work. Included in this is keeping an eye on the air quality in order to limit exposure. After workers remove materials, decontamination is necessary to dispose of any traces.
What is your duty with asbestos?
One of the most important aspects of the regulations is that the person in charge of the maintenance of non-domestic properties has a "duty to manage" the asbestos. As a result they should be as clear as possible about its location and must monitor the condition.
If alteration work is to go ahead there are generally two options. First is to remove the asbestos at the outset to maximise safety. This is typically the best option but it can result in some disruption. The second choice is to be careful with risk management and work on parts of the property where the material is not present.
A professional contractor should take care of asbestos removal. They must possess the right credentials, including licences, training and insurance. In addition to the health and safety requirements, they must ensure the asbestos disposal is in full compliance with environmental legislation.
Experienced Asbestos Removal Contractors
Here at Thompsons of Prudhoe, in addition to being members of the trade associations ARCA and NFDC, we are trained and licensed contractors in the North East, experienced in the management and removal of asbestos. Our team ensures that all types of asbestos that we encounter are removed safely and effectively. We hold a full 3-year asbestos removal license issued by the Health & Safety Executive, demonstrating that our asbestos removal teams work to the highest possible standard within this highly regulated area of industry.
When you need the first-class service – Thompsons of Prudhoe is the team you need on your side. Give us a call today on +44(0)1661 832 422 or email us at info@thompsonsofprudhoe.com.