John Bowman of Corbridge, Northumberland is celebrating retirement after spending 45 years of service working for local employer Thompsons of Prudhoe. 
John started with Thompsons on March 10th, 1975 as a spreader driver and has continued to work as a key member of the transport team throughout the last 45 years. After purchasing a second-hand Seddon Atkinson low loader, John was the natural choice to become the low loader driver.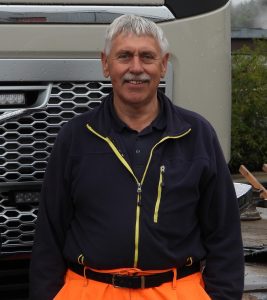 The first low loader named "Hercules" would move the heavy plant up to 20tonnes, whereas his current Low Loader "Titan 3" moves heavy plant in excess of 120tonnes+. 
His expertise in operating the low loader is outstanding, he has made it look effortless, which is quite the contrary on today's highways and site access restrictions which can be very challenging. It goes to show he has a keen eye and the technical skills to get the job done, safely and without issue (skills he frequently reminds us all off!).
John has been a loyal and hardworking employee with an unblemished record throughout his time at Thompsons.
John has a great sense of wit and humour with everyone throughout the company and has never been one not to say what he thinks!
Over the last 45 years, John has seen Thompsons of Prudhoe grow in size and strength. Without employees like John, we would not be the Company we are today.
All the best John and thank you on behalf of everyone at Thompsons of Prudhoe.